We didn't have smart phones, Facebook or Instagram and we didn't view life through the screen of a phone.

We made memories that will stay with us forever.

Reconnect with your memories from the 60s and 70s with the "real stuff"  from way back when.... Dark Sumatran Patchouli Oil

(sourced directly from Indonesia)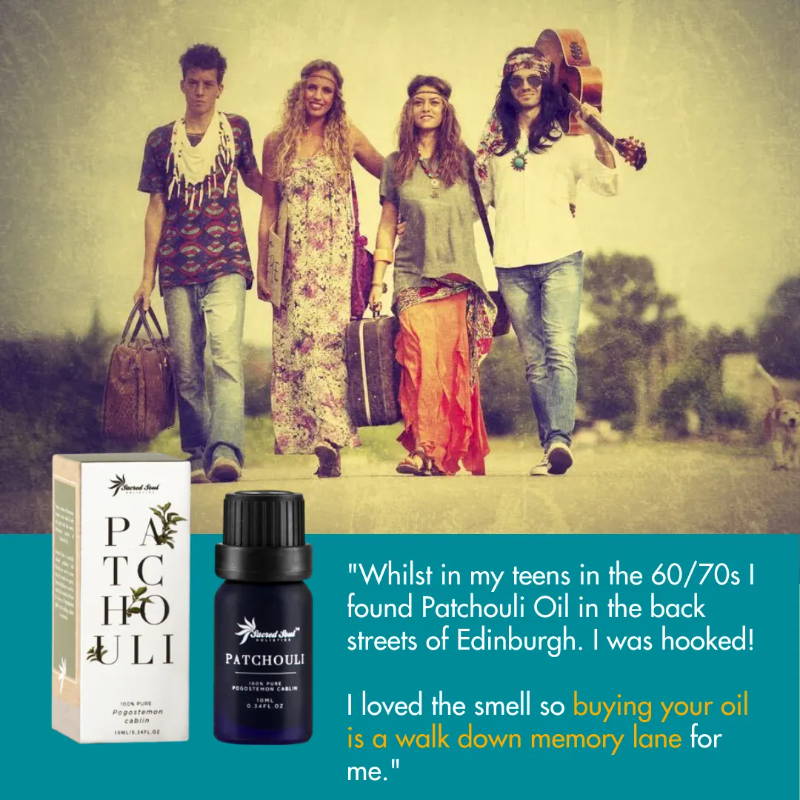 What others are saying...

"As an aging hippy it's nice to be back in the 1960's again thanks for the assist" 😇

"The darker resinous smell of the old style 70s oils"
"Love, love , love this. Been searching for a patchouli oil just like this for years.
Will definitely buy and buy again."

Put a few drops in a diffuser or oil burner, make yourself comfy, close your eyes, open your mind and enjoy the memories that start to flow as the aroma of Dark Sumatran Patchouli Oil enters your nose and fills the room with the scent of the 60s and 70s.
---
Suitable for: Bath, Compress, Diffuse, Inhale, Massage, Topical (don't use undiluted on the skin)
Country Of Origin: Indonesia

Extraction Method: Steam distilled

Scent: Balsamic, earthy, herbaceous, woody and spicy (Exactly like you remember!)

Note: Base

Consistency: Thick

Mind & Emotions: Calming & relaxing, grounding & balancing, uplifting & euphoric

Blends With: Floral herbaceous notes like Mint, Lavender & Chamomile. Romantic florals like Rose & Petitgrain. Top notes like Lemon, Bergamot & Lime. Base notes with a balsamic edge like Myrrh

Safety: Do not use undiluted on the skin. Drug interaction, may inhibit blood clotting so is unsuitable for use people who are taking warfarin or heparin based medications.
Frequently asked questions
CAN IT BE USED INTERNALLY?
As a brand, we have taken the position that essential oils are for external use only and should not be taken internally. We therefore will never state that any essential oil is food grade as this indicates that it is fit for human consumption.
CAN YOU USE IT DIRECTLY ON THE SKIN?
No we never recommend that any essential oil is used direct on the skin. Always dilute with a carrier, even when using in the bath. Dilution rates of essential oils are generally at a rate of 1%, 2% or 3% ratio of essential oil to carrier. For facial use it's usually max 0.5%. Some essential oils are even less than this though (some not suitable for topical use at all), so always check the max dilution % before using an essential oil topically.
Therapeutic grade is a term created to assist with marketing. There isn't an official industry standard for therapeutic grade, so we refuse to use this term. We do have all of our oils tested for purity and quality using GC/FID or GC/MS and usually optical rotation and refractive index amongst other quality assurance procedures to ensure they are 100% pure essential oil with nothing added or removed.
Save money when you buy Dark Sumatran Patchouli as part of a multi-pack:
This batch of patchouli is expected to go quick so place your order now while stocks last and let the relaxing aroma take you back to the good old days.