---



---
A Message From The Founders
Emotional And Energetic Properties Of Lime Essential Oil
There's a soft lightness to lime that feels like an internal smile is beginning to grow inside of you. Somehow, it's impossible to argue with its positive attitude. Uplifting and refreshing, it chases away the cobwebs of darkened days and restless nights.
When searching for clues about the energy of plants, the leaves give away great secrets about the energetic imprints of the species. When viewed next to each other, the leaves of the lime tree are very similar to those of the orange tree, uncovering how closely related their energetic medicines are.
Both are sedative but uplifting, but where orange is better used in times of worry, lime leads itself to moments related to rage. It's not surprising we see that tequila slammers are many people's preferred tipples after arguments and break-ups!
It's rich bright fragrance laughs defiantly:
"Oh whatever. Wallowing is for losers, right? Shake it off"
In holistic treatments, we will often see that anger will have a significant bearing on a person's emotional and physical well-being. These emotions, somehow get stuck in all bodily tissues but especially the muscles.
We live in a society where we are encouraged not to show anger. But in truth, there's plenty of situations in our lives where anger would be completely appropriate, and there are many people who have never learned the coping strategy to deal with it.
For many people their initial response is panic and a massive desire to just run and hide from what is going on. So now, they have this internal conflict about the way they feel.
For many people the very sensation of being angry also makes them feel ashamed. This itself creates mental disturbances. For some it can lead to you feeling down and worried or feeling isolated and withdrawn.
It's a very sad cycle, and one that lime essential oil might help you to break.
We might see people become restless, irritable, or worried. Sleep is often affected and especially dreaming when you are angry. On the simplest level, the muscles react to our emotional triggers, hunching and tensing in response to our fury.
So, where lime might not be the most obvious oil to choose for muscle aches, if there is an emotional aspect to it then lime may be able to release the fibres in the way that something like lavender or juniper cannot reach.
The essential oil plays a vital part in the mysteries of the universe, in its relationship with anger. Certainly, it's an exquisite balm for people whose physical and mental symptoms seem to become worse when they get angry. Deeper though, lime essential oil seems to speak to the inner conflict of the psyche that being angry can create.
Somehow lime speaks to a person's feeling of self-worth and, of course, we cannot ignore its green correlation with the heart chakra. Anger, because of relationship breakdowns, bereavement or even abuse, trickle their way right through our existence.
They affect the decisions we make about our romantic and emotional future, but terrifyingly affect our physical body too. We hear the expression of people dying from broken hearts, but we also recognise that if somebody spends too long in this state of rage that they're likely heading for a heart attack.
Physically, heart chakra medicine pertains to all areas of the chest, so that would encompass circulation and the lungs, especially.
Lime essential oil seems to have an affinity with the emotional healing that needs to take place after there has been physical trauma.
Lime essential oil clears the mind and has a cleansing nature. Useful, of course, if you are so angry, you can't think straight. Lime seems to pacify thoughts to allow clarity to seep through.
It cleanses and renews the spirit, then the ethereal nature of the fleeting top note gently pervades and purges the aura.
Reasons To Use Lime Essential Oil
Use Lime Oil To:
How To Use

Refreshing and uplifting, Lime oil clears the mind and lifts the spirits

Good to use when feeling:

Down or negative thinking

Mentally fatigued and low energy

Sluggish

Worked up or angry

Diffuse

Inhale from the bottle, from a couple drops on a tissue or from a DIY inhaler

To support the skin

Astringent so good to combat the overproduction of sebum

Good for teenage and aging skin

Dilute with a carrier and massage into the area of concern

Respiratory support

Good to use in times when the respiratory system is irritated or clogged up by colds and flu

Note: We're not saying it's a cure for these things, just that people enjoy using lime essential oil when they feel under the weather

Diffuse

Inhale from the bottle, from a couple drops on a tissue or from a DIY inhaler.

Add 5-10 drops of Lemon essential oil to a bowl of hot water, place your face over the bowl (make sure it's not too hot that it burns you) with a towel over your head, close your eyes and enjoy for about 10-15 minutes

Compress

Bloating and indigestion

We're not making a medicinal claim that lime oil is a treatment for indigestion and bloating. Just that the feeling of the oil applied topically, is said by many to feel nice when you are suffering with bloating.

Topical

not internal

and diluted with a carrier, massage into the stomach area
*refer to safety considerations in the attributes tab before use
The below is an approximate composition of lime essential oil, although it can vary from season to season and depending on when the fruit was harvested:
Our Commitment to Quality
Every batch of Lime oil we receive is tested for purity and quality. Each batch of essential oil can differ, even from the same producer. Because essential oil is extracted from plants, it can be affected by many factors such as the weather, the seasons, and human error... a bit like fine wine.
This is why we carry out batch testing even if the batch is from the same supplier so we can guarantee consistent quality.
The farms we've chosen to work with consistently provide incredibly pure, high quality oils. We regularly review our producers with a stringent set of quality guidelines that we've developed in partnership with our industry experts and their 20+ years in the industry.
"Even an oil which is quite truthfully described as pure may be of poor quality, and therefore of less value therapeutically. IF AN ESSENTIAL OIL COSTS MUCH LESS THAN YOU WOULD NORMALLY EXPECT TO PAY FOR IT, the oil may well be a third or fourth distillate from a batch of plant material which has already yielded the greater part of its properties to the first or second distillation."
---
Our mission is to provide you with the purest essential oils that contain the therapeutic properties you need to support your family's health.
Sometimes this means the oil is certified organic but acquiring an organic certification can be quite costly to farmers, which means many choose not to obtain it. Oils derived from plants that are organically grown or wildcrafted are still free from man-made chemicals despite not being certified. This means the oils can be of equal or better quality than comparable certified organic products and often at a lower price.
We also try our best to source single origin essential oils wherever possible.
---
How We Package Our Lime Oil
Our Lime oil is fresh off the still and comes in a 10ML blue glass bottle and is sealed to protect the precious oil within. The bottle also comes with an orifice reducer built in so you can dispense the oil one drop at a time.
During the shipping process, special canisters prolong and protect the quality of the oil from light and temperature during transit from around the globe and we ensure a quick turnaround time from producer to bottle, with minimal shelf time to maintain quality and purity.
We typically recommend storing your oil at or below room temperature in a cool dark place.
---
The Tests We Run on our Oils To Ensure Quality
All of our oil is constantly tested for purity. The testing provides us with key data about what constituent compounds are in the oils and at what volumes.
Gas Chromatography (GC)
Gas Chromatography (GC) describes the analytical separation technique used to analyze volatile substances in the gas phase. In GC, the components of a sample are dissolved in a solvent and vaporized in order to separate the analytes by distributing the sample between two phases: a stationary phase and a mobile phase. GC provides us key data about what compounds are in oils and how much of each component is present.
Mass Spectrometry (MS)
Mass Spectrometry (MS) is an analytical chemistry technique that identifies the amount and type of individual molecules present in a sample by measuring the mass-to-charge ratio. A mass spectrometer has three essential functions: Ion source, Mass analyzer and the Detector. The Ion source is where the sample is ionized. Once the sample is ionized, the mass analyzer sorts and separates the ions according to the mass and charge. Once the ions are separated and sorted then the separation is measured in the detector where a results chart is displayed..
A personal message from our founders
Ultimately we believe that an oil, like the business that stands behind it, should be ethical and be exactly what it says on the tin. That's why we only use the highest quality Lime, with the highest quality extraction methods, and shipped with the highest quality packaging.
It's also why you won't see us throwing around buzzwords that don't mean anything, like "therapeutic grade" or "clinical grade." When we describe our oils, we mean what we say.
We believe that the more you know about essential oils in general, the more likely you'll want to become a part of the Sacred Soul community.
If for any reason you're unsatisfied with our oil, I want to personally invite you to email me and let me know. I'll be happy to refund your money within the first 30 days of your purchase.
I'm betting my business on the fact that you'll be blown away by the quality and aroma of our Lime essential oil.
Either way, thanks for stopping by our site and checking us out. We hope every interaction you have with us, in person, or online is positive and memorable. Feel free to drop us a note on our contact page if you have any questions, concerns, or feedback for us.
Sincerely,
IMPORTANT:
This guide is a general overview for oils that don't have a more restricted dermal recommendation and are considered safe for topical use with adults age 16+. It also doesn't account for any specific medical issues, medication or skin conditions. You should check with a medical professional or aromatherapist before use. Below are not recommended dosages. Never apply undiluted to the skin.
ALWAYS check the max dermal use for the individual oil/s or blend you plan to use. You should also consider your medical and skin conditions and take the advice of a qualified professional. Serious negative effects such as skin sensitization, irritation, burns and other issues could occur from misusing essential oils and products containing essential oils.
Patch test: For first time use, place a drop of diluted essential oil on a small area of skin such as the inside elbow. After application, be aware of adverse reactions for the first 24-48 hours.
---
General Use
See below for approximate dilution ratios and usage guidelines. These are NOT recommended dosages and you should always consult with a medical professional or qualified aromatherapist before use.
Always start with a low dilution.
0.5% - 1% = facial, long term daily use or full body application
2% = generally good for regular use
3% = for specific localised concerns
5% = short term specific concerns (max 2 weeks)
10% = acute specific concerns
When measuring in 'drops', just be aware that the only way for true accuracy is to measure your drops using a digital scale because different oils can amount to a slightly different number of drops per ml. The orifice reducer in the bottle is also not a standard size so could differ between brands, which could affect the size of 'a drop' and therefore your dilution %. This table is intended as an approximate guide only.
*30ml is 1 ounce
| | | | | |
| --- | --- | --- | --- | --- |
| Dilution % | 5ml (1tsp carrier oil) | 10ml (2tsp carrier oil) | 15ml (3tsp carrier oil) | 30ml (6 tsp carrier oil) |
| | | | | |
| | | | | |
| | | | | |
| | | | | |
| | | | | |
| | | | | |
---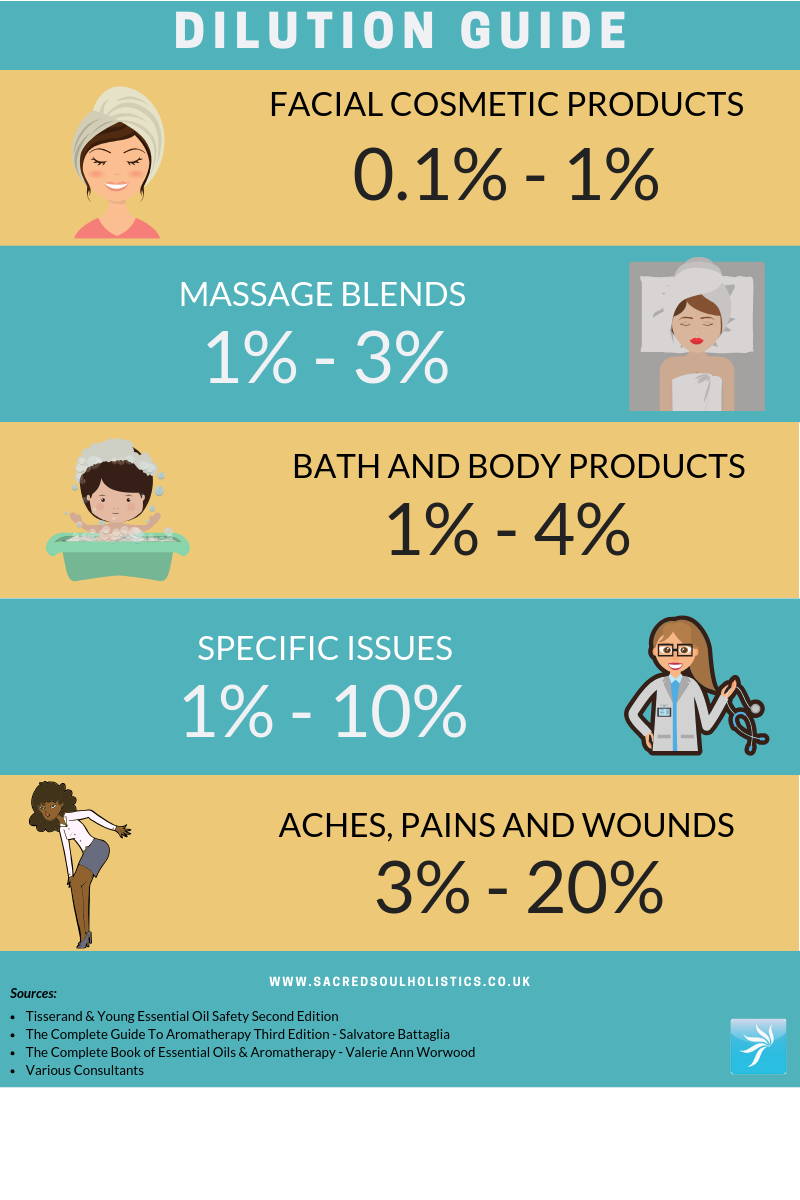 Can it be used internally?
As a brand, we have taken the position that essential oils are for external use only and should not be taken internally. We therefore will never state that any essential oil is food grade as this indicates that it is fit for human consumption.
Can it be used in a diffuser/oil burner?
Can you use direct on the skin?
No we never recommend that any essential oil is used direct on the skin. Always dilute with a carrier, even when using in the bath.
Is it antibacterial (or any other medicinal property)?
Due to legal restrictions, we are not allowed to make any medicinal claims about essential oils and their properties, even if there is scientific evidence that supports the claim.
In the additional details section on the product page, you will see the cultivation listed in the attributes. It will state 'certified organic' and the program under which certification was obtained if the oil is certified organic.
Sometimes an oil will be derived from plants that have been organically grown but the producer doesn't have organic certification (organic certification comes with a price that many producers choose not to obtain). This doesn't mean the oil is of a lower quality and in fact the opposite can be true. The cultivation will state 'organically grown' if this is the case.
Wild-crafted/wild-harvested means that the plants have been harvested from the wild rather than a plantation.
Therapeutic grade is a term created to assist with marketing. There isn't an official industry standard for therapeutic grade so we refuse to use this term.
Can it be used in a steam room or sauna?
Technically yes but if it is a public steam room or sauna then NO, because you don't know the people sharing the steam room with you.
These people could be suffering from health issues or taking certain medication and using essential oils in the steam room with these people could cause unwanted negative and potentially serious effects.
Can it be used for massage?
Yes it can but always diluted with a carrier.
Expressed (also referred to as cold pressed)

Single Origin, Conventional

Fresh, citrus, sweet, fruity

Yellow-y green to olive green

Refreshing and uplifting, lime oil works to clear the mind and lift the spirits while stimulating alertness, mental focus and decision making. Great to use when you are feeling down, sluggish with low energy or mentally fatigued and need to focus. Cooling and drying, lime oil strengthens and calms the Shen. In the Five Elements, lime oil tonifies the Wood and reduces excess damp associated with the Earth element.

2nd - Sacral, 4th - Heart

Other citruses like lemon and orange to make bright, uplifting blends. It enjoys spending time with relaxing herbaceous florals such as clary sage, lavender and chamomile. Base notes such as vetiver, sandalwood and benzoin help to stabilise blends. Other oils are: bay, black pepper, cardamom, citronella, cypress, blue cypress, elemi, geranium, fragonia, frankincense, ginger, juniper berry, lavandin, manuka, myrtle, nutmeg, pimento berry, rose, rosemary, tangerine, tuberose, turmeric, vanilla, vetiver, ylang ylang

Batch Number: Awaiting results

The statements contained herein have not been evaluated by medical practitioners. Neither Sacred Soul Holistics nor its products are intended for the purpose of diagnosing, treating, curing, or preventing any disease. If you are pregnant, nursing, taking medication, or have a medical condition, consult your physician before using these products.

General:
Store in a cool, dark place away from heat and light and out of the reach of children. For external use only. Do not use undiluted on the skin (or in the bath). Conduct a patch test before topical use. Keep away from eyes and mucous membranes. If you are pregnant, nursing, taking medication, or have a medical condition, consult a health professional prior to use.

Specific:
Is phototoxic so should not be used topically within 12 hours of exposure to sunlight. Can be sensitising to some people and if the oil is oxidised. The addition of an antioxidant to preparations containing it is recommended. Max dermal use level is 0.7% dilution according to IFRA standards.

Bath, Compress, Diffuse, Inhale, Massage, Topical

Teenage Angst Diffuser Blend

Three drops lime essential oil (Citrus x aurantifolia)
Two drops lavender essential oil (Lavendula angustifolia)
One drop myrrh essential oil (Commiphora myrrha)

---

Emotionally Restorative Diffuser Blend

Three drops lime essential oil (Citrus x aurantifolia)
Two drops Geranium essential oil (Pelargonium graveolens)
One drop spikenard essential oil (Nardostachys jatamansi)

Dilution rates of essential oils are generally at a rate of 1%, 2% or 3% ratio of essential oil to carrier. For facial use it's usually max 0.5%. Some essential oils are even less than this or not to be used topically at all so check the safety of the individual oil before use.
Sources
Battaglia S, The Complete Guide To Aromatherapy, third edition. Black Pepper Creative Pty Ltd, 2018
Tisserand and Young, Essential Oil Safety, second edition. Churchill Livingstone Elsevier, 2014
Worwood, Valerie Ann, The Complete Book Of Essential Oils And Aromatherapy, New World Library, 2016
Purchon N & Cantele L, The Complete Aromatherapy & Essential Oils Handbook For Everyday Wellness, Robert Rose Inc, 2014
Learn More About Lime Essential Oil
Lime essential oil is extracted from the rind of the unripe fruit of an evergreen tree that grows to around about 15 feet in height.
Initially, it probably originated from Asia, however its extensive culinary use means it is now cultivated in most tropical and sub tropical regions of the world.
The essential oil is pressed from the peel through a process called équelle à piqueé where tiny pinpricks burst the millions of oil sacks in the fibres. The fruit is often used as a replacement for lemons as they have similar qualities. In the same way, the properties of the essential oil are fairly interchangeable.