A Message From The Founders
Emotional And Energetic Properties Of Patchouli Essential Oil
Ayurvedic use of patchouli dates back years, being revered its beauty for skin care, relaxation, meditation, as an aphrodisiac and as an insect repellent. Chinese literature tells us it was introduced later to Traditional Chinese Medicine during the first century A.D. and was used for similar properties.
Patchouli has an extraordinary action of marrying the mind and body. It brings the two together seamlessly, erasing boundaries and divisions. Often, we may find people are too grounded and cannot see any spirituality in their lives or fail to associate what may be going on in the physical body with their emotions.
Patchouli is very good at helping a person feel more comfortably housed in their physical existence.
This ability to feel your physicality is very powerful for sexual dysfunction and its aphrodisiac effects are fascinating. It is especially useful for women or men who struggle to relax during times of intimacy. The 12th century Indian text by Somershvara reveals how patchouli is used in Ayurvedic and Tantric ceremonies to liberate fantasies, heighten libido and deepen sexual feelings, creating a safe space to explore one's most primitive sexuality.
The weight of patchouli seems to act like a lead pendulum, pulling the spiritual energy down through the mental faculties and anchoring them in the physical body, at the root.
The magic of patchouli is how it seems to break down the barrier between the physical mind and the spiritual one, making it extraordinary for connecting to one's higher source during meditation and prayer.
Hindu temples burn incenses containing patchouli to ensure that the devotee returns safely to their physical body and does not remain floating out in the cosmos when their prayers have finished.
Energetically, it has a red vibration and works on the root and sacral chakras.
These, very clearly relate to sexuality, but more than that. They relate to a person's fundamental roots and how secure they feel in life. Not surprisingly, it's red vibration also means it not only has a pacifying effect on irritation and anger, but that it also instils confidence too.
An element of aromatherapy that seems to be getting lost on today's generation of user is the individuality of a person's response to a fragrance. While we can be led by textbook recommendations of benefits and uses, we should always be mindful that a person's psyche will react in a very specific way to a fragrance profile.
Their response can be further complicated by the fact it will change and transform. One day they might really enjoy an aroma, the next it will be annoying and distinctly unattractive. Apart from ylang ylang oil, I can't imagine any fragrance reaction that would be as changeable as with patchouli.
It is important to take time to simply be with the oil, to measure one's responses in quietness, and see where the essential oil takes us, before we use it long term. The musky associations of patchouli may bring up memories from this lifetime or confusingly drag up those associated with those lives past. Its aroma can sometimes be deeply comforting, and everything that the soul pathway desires, but on another day may make you flinch with complete distaste.
It's a deeply magical elixir, which speaks to the very deepest part of ourselves and charges our mental and physical faculties to come into line with our spiritual yearnings and desires.
Where top notes such as orange and lemon may be described as happy, patchouli, could be described as blissfully content. It's a different vibration, quieter and somehow, breathless, sated and spent.
Very seductive and beautiful, indeed.
Learn More About Patchouli Essential Oil

Patchouli belongs to the Lamiaceae family, and as such is technically a mint. Its leaves look very similar to the rest of its family however it will grow to around about a metre tall and then flower with white or pink blooms.
Therapeutically, Patchouli supports the skin. Here, it is most effective blended with soothing chamomile and nourishing rose. Likewise, it is incredibly useful for adding to shampoos and conditioners for itchy scalps and dandruff.
In the 19th century when there was significant trade between India, Europe and the Middle East, the carpets, fabrics and clothing being traded was packaged with crushed patchouli to maintain a pleasant aroma.
In Asia, it's been used as an insect repellent, to fragrance clothing and to use as incense as well as in temples.
Patchouli is common to Chinese, Ayurvedic and Greek traditional medicine systems.1
More recently, the scent of patchouli was popular in the psychedelic 60s where hippies used it to mask the scent of marijuana.2
Patchouli is also used in perfumery and cosmetics.
There are several species of patchouli that are all cultivated for their oils, but P. cablin is the prime source and said to be the highest quality essential oil.
To produce the highest quality patchouli oil, the cell walls of the large leaves of patchouli need to be ruptured before distillation. The leaves are dried or slightly fermented which results in the leaf cell structure becoming more permeable.
Reasons To Use Patchouli Essential Oil
Use Patchouli Oil To:
How To Use

Help lift the spirits when you are feeling down

Help prevent overthinking and to calm a restless mind

Provide calm when you are feeling anxious, stressed, irritable or restless3
Grounding, it helps to bring us back to our senses and reconnect our thoughts and emotions to our physical being4
Said by some to be an aphrodisiac5

Diffuse

Inhale from the bottle, from a couple drops on a tissue or from a DIY inhaler.

Diluted with a carrier and added to the bath.

Dilute with a carrier and use periodically as part of your skincare routine or apply to affected area with your desired dilution percentage, taking note of safety recommendations

To support dandruff treatments

We are not making a medicinal claim that patchouli oil is a dandruff treatment. Just that people like to use it in conjunction with dandruff treatments as it can be good for the scalp

Dilute with your shampoo and use daily for a couple weeks

Interesting to note is that research on patchouli alcohol is starting to validate many of the traditional medicinal uses of patchouli in Ayurveda and Chinese Medicine.
*refer to safety considerations in the attributes tab before use
It is said that the higher content of patchouli alcohol is an indication of a higher quality patchouli essential oil. Anything below 30% might be of lower quality and therefore less desirable.
Patchouli essential oil is complex and over 60 constituents have been recorded.
Below are some of the typical constituents you can expect to find.
Our Commitment To Quality
Every batch of patchouli oil we receive is tested for purity and quality. Each batch of essential oil can differ, even from the same producer. Because essential oil is extracted from plants, it can be affected by many factors such as the weather, the seasons, and human error... a bit like fine wine.
This is why we carry out batch testing even if the batch is from the same supplier so we can guarantee consistent quality.
The farms we've chosen to work with consistently provide incredibly pure, high quality oils. We regularly review our producers with a stringent set of quality guidelines that we've developed in partnership with our industry experts and their 20+ years in the industry.
"Even an oil which is quite truthfully described as pure may be of poor quality, and therefore of less value therapeutically. IF AN ESSENTIAL OIL COSTS MUCH LESS THAN YOU WOULD NORMALLY EXPECT TO PAY FOR IT, the oil may well be a third or fourth distillate from a batch of plant material which has already yielded the greater part of its properties to the first or second distillation."
Our mission is to provide you with the purest essential oils that contain the therapeutic properties you need to support yours and your family's health.
Sometimes this means the oil is certified organic but acquiring an organic certification can be quite costly to farmers, which means many choose not to obtain it. Oils derived from plants that are organically grown or wildcrafted are still free from man-made chemicals despite not being certified. This means the oils can be of equal or better quality than comparable certified organic products and often at a lower price.
We also try our best to source single origin essential oils wherever possible.
How We Package Our Patchouli Oil
Our patchouli oil is fresh off the still and comes in a 10ML blue glass bottle and is sealed to protect the precious oil within. The bottle also comes with an orifice reducer built in so you can dispense the oil one drop at a time.
During the shipping process, special canisters prolong and protect the quality of the oil from light and temperature during transit from around the globe and we ensure a quick turnaround time from producer to bottle, with minimal shelf time to maintain quality and purity.
We typically recommend storing your oil at or below room temperature in a cool dark place.
The Tests We Run On Our Oils To Ensure Quality
All of our oil is constantly tested for purity. The testing provides us with key data about what constituent compounds are in the oils and at what volumes.
Gas Chromatography (GC)
Gas Chromatography (GC) describes the analytical separation technique used to analyze volatile substances in the gas phase. In GC, the components of a sample are dissolved in a solvent and vaporized in order to separate the analytes by distributing the sample between two phases: a stationary phase and a mobile phase. GC provides us key data about what compounds are in oils and how much of each component is present.
Mass Spectrometry (MS)
Mass Spectrometry (MS) is an analytical chemistry technique that identifies the amount and type of individual molecules present in a sample by measuring the mass-to-charge ratio. A mass spectrometer has three essential functions: Ion source, Mass analyzer and the Detector. The Ion source is where the sample is ionized. Once the sample is ionized, the mass analyzer sorts and separates the ions according to the mass and charge. Once the ions are separated and sorted then the separation is measured in the detector where a results chart is displayed.
A personal message from our founders
Ultimately we believe that an oil, like the business that stands behind it, should be ethical and be exactly what it says on the tin. That's why we only use the highest quality Patchouli, with the highest quality extraction methods, and shipped with the highest quality packaging.
It's also why you won't see us throwing around buzzwords that don't mean anything, like "therapeutic grade" or "clinical grade." When we describe our oils, we mean what we say.
We believe that the more you know about essential oils in general, the more likely you'll want to become a part of the Sacred Soul community.
If for any reason you're unsatisfied with our oil, I want to personally invite you to email me and let me know. I'll be happy to refund your money within the first 90 days of your purchase.
I'm betting my business on the fact that you'll be blown away by the quality and aroma of our Patchouli essential oil.
Either way, thanks for stopping by our site and checking us out. We hope every interaction you have with us, in person, or online is positive and memorable. Feel free to drop us a note on our contact page if you have any questions, concerns, or feedback for us.
Sincerely,
IMPORTANT:
This guide is a general overview for oils that don't have a more restricted dermal recommendation and are considered safe for topical use with adults age 16+. It also doesn't account for any specific medical issues, medication or skin conditions. You should check with a medical professional or aromatherapist before use. Below are not recommended dosages. Never apply undiluted to the skin.
ALWAYS check the max dermal use for the individual oil/s or blend you plan to use. You should also consider your medical and skin conditions and take the advice of a qualified professional. Serious negative effects such as skin sensitization, irritation, burns and other issues could occur from misusing essential oils and products containing essential oils.
Patch test: For first time use, place a drop of diluted essential oil on a small area of skin such as the inside elbow. After application, be aware of adverse reactions for the first 24-48 hours.
General Use
See below for approximate dilution ratios and usage guidelines. These are NOT recommended dosages and you should always consult with a medical professional or qualified aromatherapist before use.
Always start with a low dilution.
0.5% - 1% = facial, long term daily use or full body application
2% = generally good for regular use
3% = for specific localised concerns
5% = short term specific concerns (max 2 weeks)
10% = acute specific concerns
When measuring in 'drops', just be aware that the only way for true accuracy is to measure your drops using a digital scale because different oils can amount to a slightly different number of drops per ml. The orifice reducer in the bottle is also not a standard size so could differ between brands, which could affect the size of 'a drop' and therefore your dilution %. This table is intended as an approximate guide only.
*30ml is 1 ounce
| | | | | |
| --- | --- | --- | --- | --- |
| Dilution % | 5ml (1tsp carrier oil) | 10ml (2tsp carrier oil) | 15ml (3tsp carrier oil) | 30ml (6 tsp carrier oil) |
| | | | | |
| | | | | |
| | | | | |
| | | | | |
| | | | | |
| | | | | |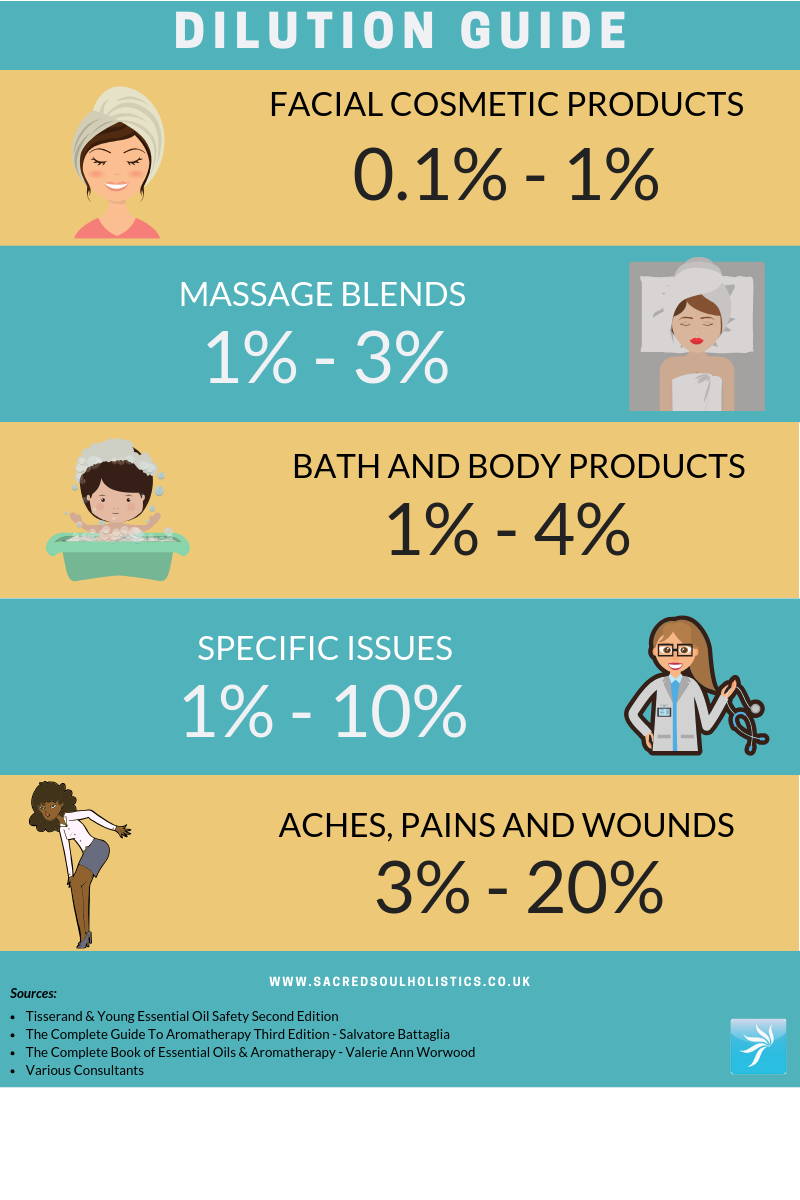 Can it be used internally?
As a brand, we have taken the position that essential oils are for external use only and should not be taken internally. We therefore will never state that any essential oil is food grade as this indicates that it is fit for human consumption.
Can it be used in a diffuser/oil burner?
Can you use direct on the skin?
No we never recommend that any essential oil is used direct on the skin. Always dilute with a carrier, even when using in the bath.
In the additional details section on the product page, you will see the cultivation listed in the attributes. It will state 'certified organic' and the program under which certification was obtained if the oil is certified organic.
Sometimes an oil will be derived from plants that have been organically grown but the producer doesn't have organic certification (organic certification comes with a price that many producers choose not to obtain). This doesn't mean the oil is of a lower quality and in fact the opposite can be true. The cultivation will state 'organically grown' if this is the case.
Wild-crafted/wild-harvested means that the plants have been harvested from the wild rather than a plantation.
Therapeutic grade is a term created to assist with marketing. There isn't an official industry standard for therapeutic grade so we refuse to use this term.
Can it be used for massage?
Yes it can but always diluted with a carrier.
Can it be used to make candles?
Sources
1. Holmes P. Aromatica – a clinical guide to essential oil therapeutics – Vol 1: Principles and Profiles. Singing Dragon, London, 2016.
2. Morris. E - Fragrance - The Story Of Perfume From Cleopatra to Chanel. Products of Nature and Art, New York, 1984
3. https://www.sciencedirect.com/science/article/pii/S2221169115001033 BabarAli, Naser Ali Al-Wabel, Saiba Shams, Aftab Ahamad, Shah Alam Khan, Firoz Anwar (2015) Essential oils used in aromatherapy: A systemic review. Asian Pacific Journal of Tropical Biomedicine, Volume 5, Issue 8, 601-611.
4. https://moderncosmethics.com/product/modern-cosmetics/ Kočevar Glavač N. et al. (2015) Sodobna kozmetika. Velenje, Širimo dobro besedo
5. https://enhancements.abmp.com/the-complete-aromatherapy-essential-oils-handbook Purchon N., Cantele L. (2014) The Complete Aromatherapy and Essential Oils Handbook for Everyday Wellness. Toronto, Robert Rose Inc.
Worwood VA, The Fragrant Mind. Transworld Publishers, London, 1997
Battaglia S, The Complete Guide To Aromatherapy, third edition. Black Pepper Creative Pty Ltd, 2018
Tisserand and Young, Essential Oil Safety, second edition. Churchill Livingstone Elsevier, 2014
Price Shirley & Len, Aromatherapy For Health Professionals, fourth edition. Churchill Livingstone Elsevier, 2012
Schnaubelt K, Advanced Aromatherapy. Healing Arts Press, 1998
Conventional, Single Origin

Earthy, Exotic, Musky, Resinous, Rich, Sensual, Slightly Floral, Warm, Woody

Sesquiterpenes, Sesquiterpenols

Older the better! About 20 years

Patchouli creates harmony and stability in the mind and therefore is good to use when you are feeling down, anxious or stressed. This oil is highly regarded for its psychological and energetic properties. If you are feeling the mental strain and like your mind is burned out from working overtime, patchouli's warm, calming, hypnotic aroma will embrace you and help you to reconnect the mind, body and spirit. Also supports Qi of the pancreas and spleen.

Patchouli is described by many as having a more powerful aroma than other essential oils. It has fixative qualities, with the earthy fragrance and alone it is seductive. However its beauty shines through when blended with other essential oils to ground and add body to them.

1st – Root, 2nd – Sacral, 3rd – Solar Plexus, 7th – Crown

Calming & Relaxing, Grounding & Balancing, Uplifting & Euphoric

Other floral herbaceous notes such as mint, clary sage, lavender and chamomiles. Romantic florals such as rose geranium, neroli, rose and petitgrain. Top notes such as lemon, bergamot and lime. Base notes with a balsamic edge such as myrrh, peru balsam and violet leaf. Woody notes such as cedarwoods, blue cypress, pines and sandalwood. Other oils are: black pepper, cananga, cardamom, copaiba, frankincense, ginger, jasmine, lemongrass, mandarin, sweet orange, palmarosa, tangerine, ylang ylang

The statements contained herein have not been evaluated by medical practitioners. Neither Sacred Soul Holistics nor its products are intended for the purpose of diagnosing, treating, curing, or preventing any disease. If you are pregnant, nursing, taking medication, or have a medical condition, consult your physician before using these products.

General:
Store in a cool, dark place away from heat and light and out of the reach of children. For external use only. Do not use undiluted on the skin (or in the bath). Conduct a patch test before topical use. Keep away from eyes and mucous membranes. If you are pregnant, nursing, taking medication, or have a medical condition, consult a health professional prior to use.

Specific:
Drug interaction, may inhibit blood clotting so is unsuitable for use people who are taking warfarin or heparin based medications.

Bath, Compress, Diffuse, Inhale, Massage, Topical

Blissful Barbecue Candles:

12 unscented tea lights

1 drop citronella (Cymbopogon nardus L)

1 drop eucalyptus (Eucalyptus globulus)

1 drop patchouli (Pogostemon cablin)

Preheat oven to 150 Degrees. Place the tea lights on a baking tray, and let them through for about five minutes or until the wax softens.
Remove the tea lights from the oven and drip one drop of each essential oil into each candle. Leave to cool.
Note: avoid getting essential oil on the wick as it smells unpleasant when it burns.

---

Sensuous Massage Oil:

1 teaspoon sesame seed carrier oil (Sesamum indicum)

1 teaspoon rosehip carrier oil (Rosa Rugosa)

1 drop orange essential oil (Citrus sinensis)

1 drop ylang ylang essential oil (Cananga odorata)

1 drop patchouli essential oil (Pogostemon cablin)

Method of use: use as when required paying particular attention the neck, upper and lower back thighs and buttocks.

Dilution rates of essential oils are generally at a rate of 1%, 2% or 3% ratio of essential oil to carrier. For facial use it's usually max 0.5%. Some essential oils are even less than this or not to be used topically at all so check the safety of the individual oil before use.